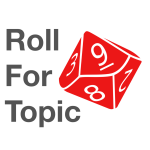 Happy holidays everyone! We're back with an episode in which we play through the dungeon that we made during the last episode. Andy is your esteemed GM for this one and we were pleased to have Aaron, Matt, and Brandon join in as players!
If you liked this two-part experiment of building and playing a dungeon, please reach out to let us know! We're thinking about doing more in the future!
This episode is going live a few days early just in case you have upcoming holiday travel and want something to listen to. We'll be back in early January with a "normal" episode.
Also, for the parents out there: all Roll For Topic episodes strive to be PG. No swearing, but there are discussions of violence.