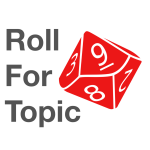 How do you incorporate random elements into your games? Do you rely heavily on randomness or do you downplay it? Andy and Chris discuss the fun (and occasional terror) that random elements bring to a roleplaying game.
Episode 12 appendix (aka show notes):
The D&D Starter Set, featuring the adventure "Lost Mines of Phandelver" which Chris somehow turned into a 12+ month campaign.
Blades in the Dark, which seems to come up in every episode.
Gamma World, a classic RPG that leans into randomness. Andy mentions the 2010 7th edition, which takes the randomness to a (fun) extreme.
Friends at the Table, an actual play podcast that produced the "Fall of Magic" campaign that Chris enjoyed.